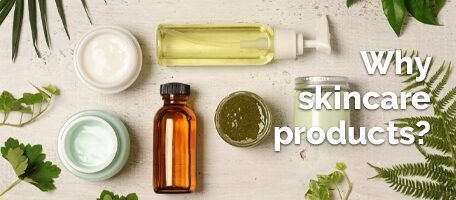 Using natural skincare products is important as there are several benefits of using natural skin care products.
The skin is your body's largest organ and your protective barrier from all toxic ingredients. Your skin absorbs almost everything put on it thus you should be aware of what you're exposing it to.
Chemical-based skin care products come with dangerous ingredients which do offer benefits but also have side effects. Upon usage of such products, your skin is exposed to the utmost pollution and toxicity.
Why natural skincare is better to follow because using natural skincare products will help your skin feel and look healthier than ever before without causing any side effects and allergic reaction.
Less concern over side effects and no skin irritation
Skin irritation can be caused by using skin care products with corrosive chemicals and harmful colors. In contrast to this, natural skincare products are paraben-free and act gently on the skin preventing the chance of skin breakout and acne.
Natural ingredients like Vitamin C increase collagen production, improve oxygen and blood flow to the skin, and repair free radical damage.
Using natural skincare products is better because they use natural preservatives that don't cause concern about harming your body.
Better for the environment and eco-friendly
They do not harm the environment. Chemicals possibly have the chance of harming animals and plants and could have dire consequences on the surrounding ecosystem.
This is because the process of extracting certain ingredients like aluminum, lead, etc involve mining that produces a lot of pollution putting a great amount of stress on the environment.
Why natural skincare is better because they only use natural ingredients that cause no harm to the surrounding plants or animals.
You should use natural skincare because unlike chemical-based products that rely on chemically produced smells to cover up the heavy toxins used in them; natural skincare products smell like the ingredients that are used to create them.
Packed with Beneficial Nutrients 
Many people are unclear about what are the benefits you get with natural products. Natural skincare products are packed with ingredients like tea-tree, jojoba oil, argan oil, lemon juice, onion extract, aloe vera, etc. These ingredients contain vitamins such as Vit C, D, E, and A which are actually beneficial in the functioning of the body at optimal levels.
Natural vs Organic skincare products
A product is considered natural when it consists of ingredients that are derived from natural resources like plants, flowers, minerals, etc. Ingredients like petrochemicals, parabens, sodium lauryl and laureth sulfates, phthalates, synthetic dyes, and synthetic colors are not included in the natural skincare products. It is never tested on animals, the quality of ingredients is retained during manufacturing and environmentally unfriendly substances are prohibited.
The term Organic represents that an ingredient must be grown and prepared without the usage of pesticides, GMOs, sulfates/parabens, or antibiotics, a very limited amount of pesticides is permitted. Organic beauty products go through the diligent standards of purity. In order to create Organic products, ingredients are derived without the use of synthetic pesticides, petroleum fertilizers, or sewage sludge.
ant to start your own natural skincare brand Now
Are you interested in winning the benefits of natural skin care products by selling them? If so, you're in the right place. Cosmetify offers the best natural skin care products in India which are free from paraben, sulfate, and phthalate. All the skincare, haircare and body care manufactured by them are made of plant-based, natural, pure, and organic ingredients. Cosmetify does not harm any animal in its product manufacturing process.
Contact us now for getting the best natural skin care products in India.